The living room is one of the most important rooms in your home and for obvious reasons. It's one of the first rooms we think about when it comes to decorating since it's the primary place where we recreate, entertain guests or even enjoy meals.
The functionality of your living room is just as important as how it looks and this point should always be kept in mind. If you're planning to spend lots of time with other people here its best to make sure the space is inviting and conducive to social engagement.
The following tips will help you create a living room space that is stylish, cohesive and versatile.
Arranging furniture
While the living room will often have a sofa and some auxiliary chairs, simply dumping them in the middle of the room isn't ideal. The furniture has to be spaced out and facing in a deliberate way in order to promote conversation and easy viewing.
Whether the focal point of your living room is a TV or just a fireplace, you need to arrange your furniture to be facing it with equal exposure given to each seat. The equal spacing and facing direction of the seating is important so that guests don't need to strain their necks or throw their voices in order to chat to one another.
Make sure to prepare for several people moving around the room and in-between furniture. Make it easy for people to access seats without having to move awkwardly.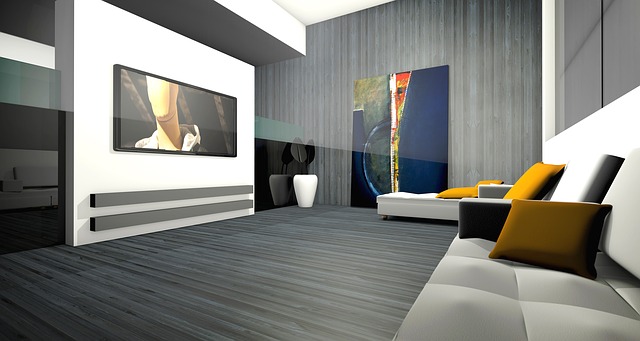 Accessorise
Depending on the size of your living room you'll need to add some personality to it via art and accessories. Everything from paintings to photo frames and figurines all go a long way in adding some visual noise.
Adding aesthetic accessories to space also keeps you from cluttering the space with random junk that you were too lazy to put away. While it can be good to have a 'lived in' feel, guests will be more impressed by some cleverly places accessories.
Lighting
Lighting is important in the function of any room but needs special consideration in a space like the living room. Depending on the facing of windows and the amount of natural light you get you may need to consider different options.
If you use the living room as an entertainment centre perhaps consider lighting that can be dimmed to reduce screen glare. If you're doing a lot of reading, consider standing lamps that can be easily moved around.
Consider the floor
Do you have a carpet? Do you have a hardwood floor that could use a rug?
Wall to wall carpet isn't as popular or as widespread in modern homes as it once was. Many people instead favour area rugs that cover a specific area, usually in front of the seating arrangement.
You can get pretty creative with area rugs. The best choice is to go with something that is eye catching but also matches with the overall colour scheme of the room.